I stumbled across this fun link-up over at
The Sweet Season
via my
Cara Box Exchange
match-up buddy this month,
Shawna at Doe Loves Buck
and I decided that I'm going to hang with these folks today. And maybe every Friday. We'll see.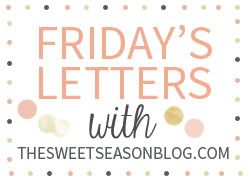 Dear work week:
I'm glad I'm seeing your final day today. Wait, just kidding. I'll be coming into work tomorrow to catch up on the world. My desk looks like WWIII hit it. Thanks a lot. Not!
Dear Spring:
We're getting a taste of you right now and I'm so grateful. Please drop bucket loads of water on us this weekend. We need it a whole bunch!
Dear Charlotte
: I miss you. I'm sorry you're having to stay at my dads until your leg is all healed from your surgery. But you know Bonnie would probably injure you again so it's for your own safety. And no, you won't be staying at my dads forever, despite how calm and relaxing it is, so don't even ask.
Dear Kaleena:
Happy 30th, my friend. Now part-tay it up at the
Wizarding World of Harry Potter
enough for the both of us. And don't forget to send me my Butter Beer!!!
Dear expensive makeup department at Ulta's
: Please quit calling my name. Now that I've gotten a taste of you, I'm hooked. But I'm not stepping foot back into your store until my bank account has accrued more money from the zero balance that's in it now. And that is that!!
Dear Uncle Ty:
You've been on my mind all week. And so has your mom, my Nana. I pray you've been celebrating your birthday with God and His angels all week. And I pray that Nana is staying strong and handling you being gone for the first time on your birthday. I love you and miss you forever!
Happy Happy Happy Friday!